A team of health scientists at Castle Hill Hospital is showing that better care for cancer patients doesn't have to cost the earth.
The routine replacement of a linear accelerator (linac) last year, used in radiotherapy treatment for cancer patients, with a new Varian Halcyon generated more than just improvements in throughput.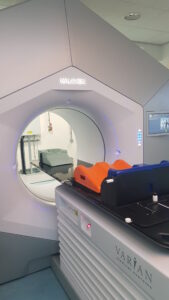 The Radiotherapy Physics Team, based at the Queen's Centre, found that not only were the therapeutic radiographers able to treat around 20% more patients each month, but that power consumption in Bunker 4, where the Halcyon is now sited, dropped by an amazing 70 per cent.
Peter Colley, Consultant Physicist and the Trust's Lead for Radiotherapy Physics says:
"Linear accelerators and the Trust's Halcyon are both used at the hospital to deliver courses of radiotherapy treatment. Each machine uses precise high energy x-rays to target cancerous cells and treat hundreds of people battling cancer every month.
"Two of the main reasons for us getting the Halcyon were its technical treatment capabilities and the promise of a better overall patient experience.
"We knew that the Halcyon system would use less energy, but it's not something we were able to quantify at the time and so not something which had been key to our decision making.  It turned out to be a value-adding bonus.
"Once the Halycon was installed, we began to see energy consumption drop dramatically, which is astounding given the number of treatments we deliver with the Halcyon averages around 610 treatments a month; with the old linac this stood at around 500."
Energy consumption in Bunker 4, in fact, dropped by over two thirds, from 4,500kWh per month to just 1,200kWh, which equates to quarterly cost savings of over £2,000. But Peter and the team say the financial savings aren't the only benefit.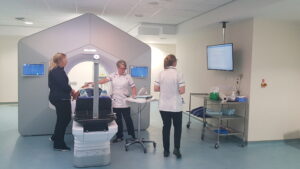 He continues:
"Our patients have told us the Halcyon delivers a better experience for them, plus it's quicker, it's quieter and it generates much higher quality images for the therapeutic radiographers to use. In turn, this enables our radiotherapy team to target patients' cancer cells with much more accuracy and avoid damaging healthy tissue.
"Not only that, but the reduction in energy we're able to record doesn't include the air handling and the chiller plant on the building roof which offsets the heat generated by the radiotherapy treatment machines. These aren't metered independently, but it stands to reason that if we are putting that much less power in, we're going to be taking proportionately less heat out and blowing it into the sky; we are also going to be cooling less."
"The Halcyon is helping us to care for our patients and care for the planet at the same time, and this is definitely an approach we'll be looking to continue as we move the service forward."