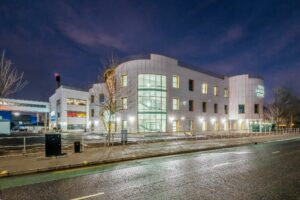 The Allam Diabetes Centre opened just a few weeks ago, providing much improved accommodation in which to care for patients with diabetes and in which to take forward Hull's world class diabetes and endocrinology research.
Generously supported with a £3 million donation from local businessman and philanthropist, Dr Assem Allam, the £7.5 million facility stands proudly at the entrance to the Hull Royal Infirmary site where passers by can't help but notice its uniquely 'non-NHS' design.
That design came courtesy of Beverley-based Alessandro Caruso Artchitects, who worked with Dr Allam and the wider project team to realise the curvaceous design and even incorporate a nod to Dr Allam's Egyptian heritage.
Earlier this week, Alessandro Carusso Architects received an International Architecture Award from The Architecture Community for the building, beating off global competition to win the 'Public Building Built' category of the 2021 Awards.
But while the facility certainly looks impressive, did you know that it has some excellent green credentials too? The main strategy for sustainability of the building is the ventilation, with the 3-stack effect meaning the building ventilates naturally.
The porcelain cladding which makes up the building's outer is a made of biodegradable material, and there's even a roof terrace and garden for staff to nurture and enjoy.
A 'twin building' is also under construction at the Trust's Castle Hill Hospital site, which will provide updated accommodation and facilities for endoscopy and gastroenterology and is expected to open in the summer of 2022.
To read more about The Architecture Community award, visit www.thearchitecturecommunity.com